Rosemary Balsamic New York Strip
This is a Sponsored post written by me on behalf of Nature's Care for SocialSpark. All opinions are 100% mine.
Spring is almost here and I can't wait to re-plant my herb garden, I have a small planting strip on my porch, right off from my kitchen where grow all my herbs. Unfortunately the cold took them all out except my rosemary bush, so in a few weeks, when it warms up a little more, I'll be planting that small space with all of our favorite herbs like basil, oregano, mint and dill.
We're also going to try a vegetable garden again this year. I'm not sure though if we're doing the raise beds, or just placing the garden by the house in the same place it was last year. The only veggies that survived the cols were my sweet potatoes and collards. So we've got lots of planting to do this year.
Yesterday I took some fresh rosemary and made a simple rosemary balsamic marinated steak on the grill. I served this with a simple salad and fresh spring asparagus. I just marinated my steak for a few hours before placing them on the hot grill. You can marinate longer, but since this marinade is so acidic, it works really fast.
To go along with the steaks, I sauteed some sliced mushrooms in a small cast iron skillet on the grill. I used some of the excess marinade to season the mushrooms.
Rosemary and Balsamic Marinated Steak
Ingredients:
1/4 cup fresh rosemary leaves, stems removed
1/2 cup balsamic vinegar
1/2 cup olive oil
1/4 cup finely chopped onion
2 cloves garlic, diced fine
salt and pepper to taste
2 steaks, I used New York Strip
2 cups sliced mushrooms
Directions:
Add all ingredients except steak to a blender. Pulse until blended well. Add steaks to a shallow baking dish and pour over marinade. Allow steaks to marinate for 3 - 4 hours, or overnight.
Add mushrooms and 3 tablespoons marinade to a small cast iron skillet.
Heat grill to high or 450°. Place mushrooms on grill. Grill steaks to desired doneness. Serve topped with mushrooms.
Did you make this recipe?
Be sure to share on Instagram with the hashtag #EclecticRecipes and tag me, @EclecticRecipes!
Growing our own herbs and vegetables for making delicious meals like this grilled steak recipe make me so happy. I love that we're using natural, homegrown ingredients. So when I looks for planting soil and fertilizer to grow our foods, I make sure that it's all organic too. Scott's Nature's Care has two new innovative products that help us achieve big healthy strong plants. There's a new potting mix and plant food that both have natural formulas and are perfect for edible gardening.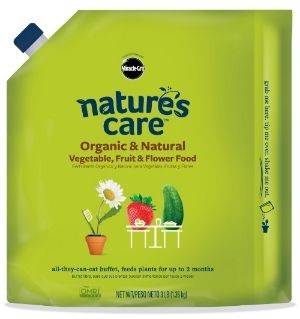 They also have several organic all natural pesticides to product our crops from our little insect friends. These are my favorite, since we live in Florida and we have so many garden pests. I can't wait to try the new products on my own herb and vegetable garden, as well on my existing plants. I know that plant food is going to make my rosemary bush even bigger and healthier!