Bahama Breeze Summer Beach Bash
This is a Sponsored post written by me on behalf of Bahama Breeze for SocialSpark. All opinions are 100% mine.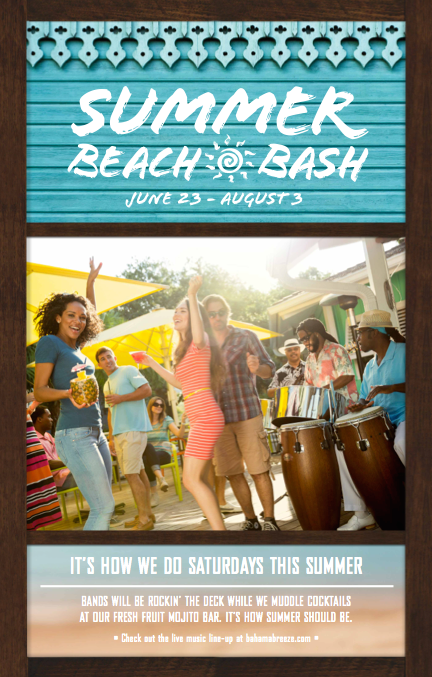 We live pretty close to the beach, but not that close, it's still about a 45 minute drive away. So when we want to go to a  fun beach bar type restaurant, we just head a few blocks down the street to our local Bahama Breeze. The inside of the restaurant has a beautiful atmosphere and the food is amazing. They have a menu filled with island foods. One of my all time favorite menu items is the Roasted Cuban Bread topped with fresh tomatoes and basil. It's the perfect appetizer to choose before enjoying one of Bahama Breeze's fresh fish entree dinners.
Our favorite place to hang out though is out on the deck. It's such a fun relaxing place to enjoy good times with friends. And this summer they're having the Bahama Breeze Summer Beach Bash that will feature live music and bring the sounds of the islands to their patio. You can try their new signature cocktail, the Ultimate Pineapple, a yummy frozen drink served in an actual freshly cut pineapple. On Saturdays they bring out a mojito bar. You can choose your fruit, your rum, and watch the bartenders muddle the perfect summer cocktail. The party starts June  23rd, and only lasts until August 3rd, so be sure to bring your friends and stop by for fun! I know I can't wait to stop in!
If you stop by the Summer Beach Bash, don't forget to participate in the "Instagram Selfie Contest". All you have to do is share a creative selfie of yourself, or yourself and your friends, enjoying the Summer Beach Bash and use the hashtag #MyBBSelfie. Then you will automatically be entered for a chance to win a $25 Bahama Breeze gift card! Don't forget the party ends soon, so stop by before August 3rd!
I'll be going to the Bahama Breeze Beach Bash soon and will be sharing real time with social media updates during our visit and through an additional blog post coming soon. Bahama Breeze is the summer destination for good times. The staff is always so frieldy and attentive, and there's always a party on the patio in the summer. The live music and cool breeze on the patio makes it the perfect little Bahama getaway that's close to home. And I can't forget the great food and amazing coctails. There's no other place I'd rather get together with my friends.
And don't forget to check out my next post about Bahama Breeze where I'll be giving away a $50 Gift card and a Bahama Breeze t-shirt, so stay tuned!
Our Apologizes
There is no recipe attached to this article, but be sure to explore my more than 1000 recipes below!