Give your Pooch Holiday Love with Beggin' Strips®
This post brought to you by Walmart. All opinions are 100% mine.
When I was sharing Coco's favorite things yesterday, I forgot to tell you his absolute favorite treat, Beggin' Strips®. He'll do anything for a Beggin' Strip®. They are his favorite. I have to hide them to, high on top of the refrigerator, or he'll grab them out  of the pantry or off the counter. They have several flavors we've tried, a Bacon & Cheese Flavor, a Bacon Flavor, an Applewood Smoked Flavor, and a Bacon & Beef Flavor. He loves them all of course, but I think the bacon is his favorite.
Coco loves new squeaky toys and big bones for Christmas, but the one thing that always makes his tail wag a thousand times an hour are Beggin' Strips®. So I make sure that Santa also leaves him a big bag of them under the tree every year.
Coco doesn't do too many treats, but he has alot of energy, and the few tricks he does know, he completely forgets when it's Beggin' Strips® time. He gets so excited, he just starts jumping for joy!
We always get our  Beggin' Strips® at Walmart. They have all the flavors and they have a great price on them too.
Want to win some great prizes from Purina® Beggin' Strips®? There's a twitter party going on tomorrow where they're giving away some awesome prizes!
#BegginforPresents Twitter Party
When: 12/11/2013 at 1:00pm-2:00pm EST Join the Party
Prizes: $100 Walmart Gift Cards, Beggin' Strips® Stockings, and a Stocking including a $500 Walmart Gift Card!
Hashtag: #BegginforPresents
Must attend party to win, winners announced through out party!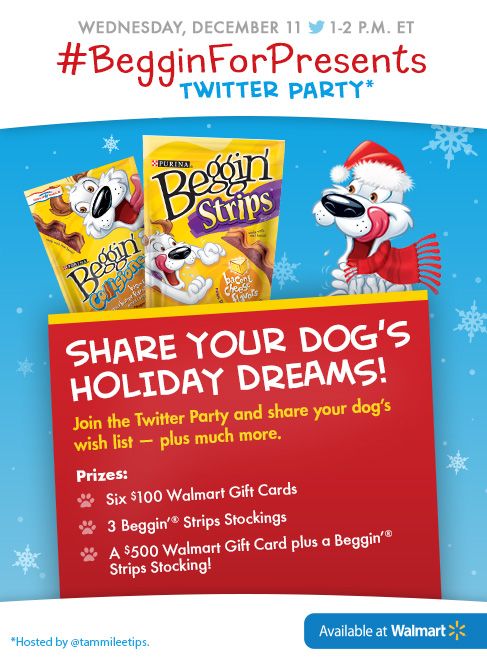 First time twitter party attendee? Here's a few hints for the party!
This is a sponsored post written by me on behalf of Triad Retail Media. All opinions are 100% mine.
Our Apologizes
There is no recipe attached to this article, but be sure to explore my more than 1000 recipes below!