Wake Up with 100% Florida Orange Juice
This is a sponsored post written by me on behalf of Florida Department of Citrus for IZEA. All opinions are 100% mine.
March is almost here, and many of us are still trying to keep on track with our heealthy eating habits. Making lifestyle changes that help us live healthier aren't the easiset things to do. There's so many things that many of us could do to improve. From improving our eating habits and eating more homemade wholesome meals and snacks to exercising religously everyday. It just doesn't seem like there's enough time in the day does it?
Back when my husband and I use to go to health clubs, so many people started the year out with the best intentions. The club was packed and everyone was so excited to start off the year right. But the plans that many of us make are just too difficult, and we set ourselves up for failure. It seemed like that New Year's excited and motivated rush seemed to started to fizzle out after Valentine's Day and by the middle of March, all those new members had all but disappeared.
But living a healthier lifestyle doesn't mean you have to be perfect. It doesn't mean you have to exercise for an hour at a fancy health club everyday. You don't have to be a strict sugar-free, dairy-free vegan, or an all organic preservative free paleo person. Life is about moderation and enjoying a diet rich in beautiful fruits and vegetables and tasty protiens and fats, and incorporating physical activity that fits within your unique lifestyle.
To help improve my family's diet, I try and sneak in as many servings of fruits and vegetables as possible. It's a great way to help diversify my family's diet and expand the palates of my kids, including the one in my belly. Unfortunately most families, including my own, don't get as many servings of fruits and vegetables in thier daily diet as they should. Everyday is a struggle for us to get all those servings of colorful fruits and veggies. Fortunately there's simple little steps we can all take to reach our goal. For my family we start off every morning with a breakfast that always includes 100% Florida Orange Juice. It's an easy way to include a serving of fruit that's super quick and easy and no one ever complains about.
Sometimes I squeeze our own juice with fresh oranges. We do live in Florida after all. But more often than not, I buy 100% Florida Orange juice at the grocery store. We go through at least 2 containers a week. It's as much of a staple in my refrigerator as a gallon of milk, if not more so.
And did you know that 100% Florida Orange Juice has no added sugar. All that sweetness naturally comes from the ripest tastiest Florida oranges. It's so refreshing and amazing and a great source of Vitamin C, potasium and folate, something that's especially important now that I'm pregnant. These "Amazing 5" benefits in 100% Florida Orange Juice are why it's an important part of our family's  diet.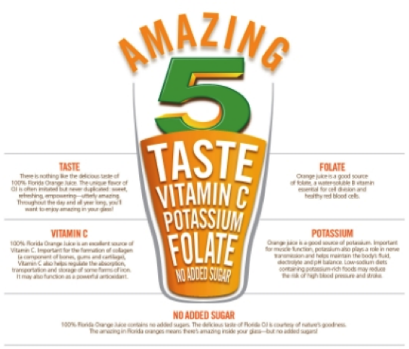 Simply addding nutrient dense 100% Florida Orange Juice is super easy and the taste is kid-friendly because it's so sweet and delicious. You can easily serve it every morning with breakfast, use it to make smoothies and even make breakfast muffins with it. 100% Florida Orange Juice also makes a great afternoon pick-me-up paired with some fresh fruit and maybe a little low fat cheese or yogurt. And don't forget the many different recipes that can be made with orange juice from savory meat marinades and glazes to decadent baked goods.
Our Apologizes
There is no recipe attached to this article, but be sure to explore my more than 1000 recipes below!