Wendy's New Pulled Pork
This is a sponsored post written by me on behalf of Wendy's for IZEA. All opinions are 100% mine.
One of my family's very favorite comfort foods is pulled pork. It's a dish that's always on our own menu at least once a month and it always makes an appearance on the menu when our extended family gets together too. It's a crowd pleasing family favorite that all ages love. We also love to order pulled pork when we go out to eat, it's so good!
That's why I was so excited when I heard that Wendy's was going to be offering pulled pork sandwiches. Wendy's has always been our go-to favorite fast food place, so we knew when we heard they would be offering pulled pork, it would be amazing.
Wendy's made sure when they developed their pulled pork recipe that it was going to be the best that they could offer. They respect the pride and enjoy that real pit masters have with their BBQ. That's why they went to great lengths to make sure their pulled pork was a step above the rest.
They traveled all throughout the BBQ belt of the states, tasting and sampling the best of the best BBQ at different BBQ festivals and local favorite BBQ joints. It was all so good, instead of trying to duplicate any one region of BBQ, they tried to take the best elements of each region and combine them in one ultimate pulled pork offering.
So Wendy's developed a BBQ pork pulled sandwich and pulled pork cheese fries. The pulled pork is so amazing. It's made from a tender, premium, lean pork shoulder that's been slow-smoked for hours with real hickory chips.
The pork is then topped with your choice of three custom-crafted sauces – smoky, spicy and sweet – each to fit your own personal BBQ style. My favorite is the spicy sauce. It's so amazing!
And what pulled pork sandwich is complete without some cool, crunchy coleslaw? Wendy's tops their pulled pork sandwich with delicious coleslaw and all on top of a toasted brioche bun.
Each sauce was developed in order to help bring out the flavor of the meat, either with a hint of smokiness, spice, or sweetness. The sauce is then drizzled on the heel of the bun and the meat, so you get the perfect amount of sauce in each and every bite.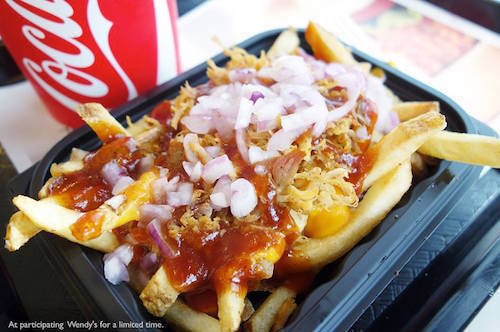 Don't forget to try out those Wendy's Pulled Pork Cheese Fries. They make a perfect savory side or snack. They feature natural-cut fries, with a topping of rich cheddar cheese sauce, that amazing hickory-smoked pulled pork and diced red onions. It's then topped with your choice of three sauces.
But don't wait to go try Wendy's pulled pork. It's only around for a limited time!
While Wendy's learned some amazing things about BBQ while developing their amazing pulled pork offerings, they know that there's still plenty of great BBQ pit masters' secrets to be uncovered. You have the chance to unlock those mysteries by visiting YouTube to play Wendy's "Crack the Masters" interactive game.
Find out more at the Wendy's Website.
Twitter: @Wendys
Instagram: @Wendys
Facebook: Facebook.com/Wendy's
Our Apologizes
There is no recipe attached to this article, but be sure to explore my more than 1000 recipes below!