DIY Lavender Honey Donut Bath Bombs
I have received information and materials from ©Johnson & Johnson Consumer Inc. 2017. The opinions stated are my own. This is a sponsored post. #ForBetterTomorrows #BetterTomorrows #FallBack #CollectiveBias
Hover over the image below for a great deal on TYLENOL® PM from Walgreen's.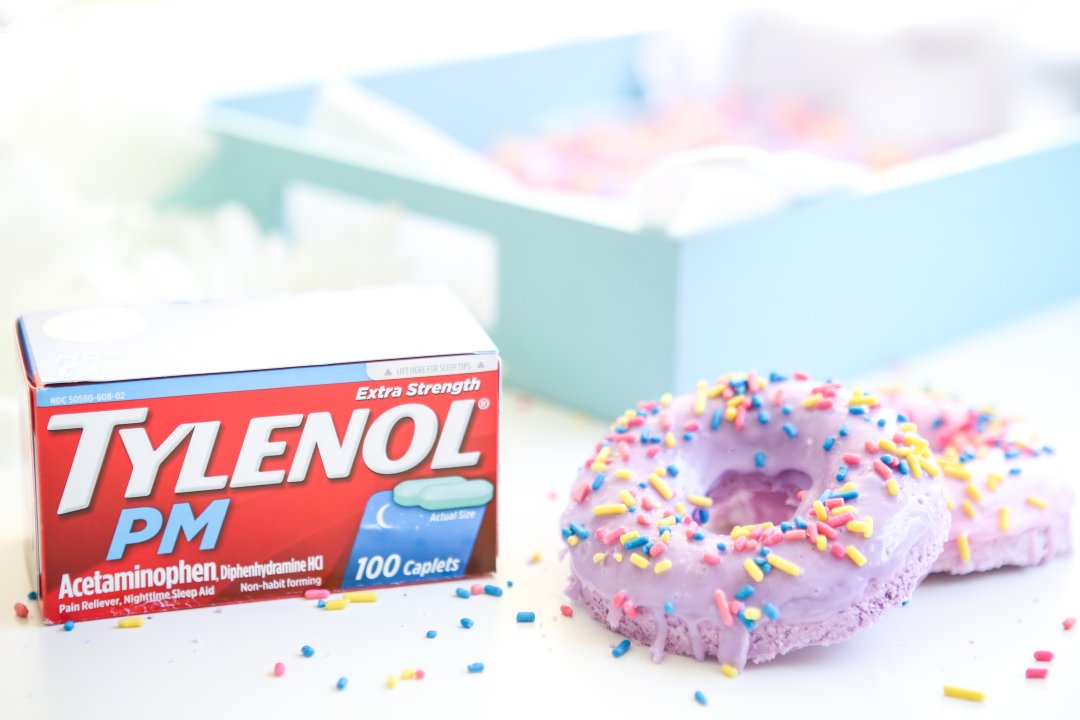 This time of year I get a little overwhelmed with all the fun things to do with our family. There's fall celebrations, fairs to attend, and the holidays are right around the corner! And unfortunately, the days are getting shorter and shorter, with even less daylight. It's already time to fall back an hour this weekend with daylight savings time ending all too soon.
Yesterday was so busy and fun for us. I spent the afternoon with my son at a fall celebration at his school. It was a pot luck style even and everyone had such great time. then we went to a Halloween party followed by neighborhood trick or treating. We had so much fun, we ended up  being out a little later than we should have been with a toddler.

My daughter dressed as a little puppy and was so happy!  This was her very first Halloween that she really got what was going on. She was super excited to run up and knock on doors with her big brother and eager to pick out that perfect piece of candy.
After all that walking though, and carrying a large toddler on my hip all around the neighborhood, I was so achy! But my to do list for the next day wasn't going to get any shorter, so I took a relaxing bath and a TYLENOL® PM. I can't let my little aches and pains get in the way of being Mom to my family. Chores still need to get done, lunches need to be made, and dishes have to be washed.
If I don't get a great night's rest, my family suffers. I'm groggy all day and still sore from the night before. I can't concentrate and things don't get done. And the worst part is I get very forgetful, and it ruins everyone's plans. Sometimes I've forgotten where keys are and won't be able to find them for hours. And just like that, little people don't get to where they need to go, and mom doesn't get her errands, chores or work done that day.
I've decided my family doesn't deserve a mom that's constantly forgetting things, who's not in good mood, or is too achy to run around and play. They deserve the best me I can be. They deserve a mom that keeps up with lost things, a mom that keeps everyone organized, and a mom that keeps the family having fun like they should be!
TYLENOL® PM is perfect for me to take for life's little aches and pains so I can get that perfect night's sleep. It helps me keep up with my kids, my busy schedule and life! And while relieving those little aches and pains, I get to fall asleep even faster thanks to TYLENOL® PM. I get a great night's rest and am ready for the next day of working from home with a busy toddler and having fun with the kids!
Right now TYLENOL® is collaborating with Walgreens to help people that suffer from little aches and pains and don't get a great night's sleep. Sleeplessness isn't good for anyone and affects so many. Adding pains to the equation doesn't help. But TYLENOL® PM helps to relieve those little aches and pains while helping you to fall asleep.
Right now there's an awesome offer on TYLENOL® PM at Walgreens too!  Buy TYLENOL® PM 100 count $11.99 and save $1.50 off with your Walgreens card. Offer valid 11/5-11/11.
You can find TYLENOL® PM at your local Walgreens in the aisle where the other aches and pains medications are.
And in addition to taking TYLENOL® PM when I feel achy at night, I also like to take a nice relaxing bath!
DIY Lavender Honey Donut Bath Bombs
I just started making bath bombs at home. They are so much fun to make! My son loves to help mix everything. It's like a fun science experiment.
The ingredients are pretty common – epson salt, baking soda, corn starch, food coloring, essential oil, coconut oil (you can also use olive) and water.
If you don't have essential oil around your home, you can easily order it online. I didn't have lavender essential oil, so I ordered a 4oz bottle, which is more than enough. The citric acid is harder to find, I bough a bag of it online too. Both were at my home within 2 days.
For the bomb part of these bath donuts, you mix the first ingredients and press them into the donut mold and let them dry overnight. These bath bombs can take a little practice at pressing them in so they don't crack when you tap them out of the mold. But it's okay if they break, just place them back in the mold and press them in harder the second time around.
After they've dried overnight, it's time for the fun part, icing the bombs! Just take some melting soap (available at any craft store) and melt it per the package directions. Then add the honey and soap coloring (also available at the craft store) and mix well. Then dip each "donut" in the melted soap.
I dipped each donut shown in the photos 3 times and then quickly while the third layer of soap was still melty on them, added the sprinkled. The soap will harden faster than you think. So sprinkle fast!
After all the donuts have been dipped, let them cool completely before storing them.
Enjoy!
You can find out more about TYLENOL® PM product page on their product page here. Be sure to also keep in contact with TYLENOL® on Facebook and TYLENOL® on YouTube
DIY Lavender Honey Donut Bath Bombs
Total Time: 12 hours


A quick and fun recipe for DIY Lavender Honey Donut Bath Bombs.
Ingredients:
1 cup Baking soda
1/2 cup Citric Acid
1/2 cup Epson Salts
1/2 cup cornstarch
1 teaspoon water
2 teaspoons lavender essential oil
2 tablespoons coconut oil
a few drops of food coloring
For the soap icing
1/2 lb white melting soap
1/4 teaspoon honey
soap coloring
colored sprinkles
Directions:
Place epson salt and food coloring in a mixing bowl. Mix in a few drops of food coloring until salt is uniformly colored. You will have to mix in the color for a few minutes. Make sure this color is a deeper shade than what you want. The bombs will end up being a pastel color because of the other ingredients.
Add citric acid, baking soda and corn starch to this bowl. In another bowl mix the oils and water. Now slowly add the wet to the dry and mix well with hands.
Place mixture in donut baking dish and press in there really well! After the donuts are pressed in very well and level, just turn out over parchment paper and tap out. If donuts crack, you can place back in the donut pan and press in again.
Let donuts air dry overnight and they will harden up.
Melt soap in microwave or double boiler according to package directions. Add honey and mix well. Add soap coloring until you get the color you desire.
Dip hardened donut bath bombs in melted soap and place on cookie sheet or parchment paper. Dip them again. And one more time before adding sprinkles. After the third dip in soap, quickly add the sprikles, so they stick in the soap.
Let air dry before storing.
RECIPE NOTES:
In the photos, I made two different colored bathes of bath bombs.
keywords:
DIY Lavender Honey Donut Bath Bombs, easy DIY Lavender Honey Donut Bath Bombs, best DIY Lavender Honey Donut Bath Bombs, DIY Lavender Honey Donut Bath Bombs craft
Did you make this recipe?
Be sure to share on Instagram with the hashtag #EclecticRecipes and tag me, @EclecticRecipes!
Pin Me!
TYLENOL® PM contains a pain reliever and nighttime sleep aid. ©Johnson & Johnson Consumer Inc. 2017 The third party trademarks used herein are trademarks of their respective owners.
Use TYLENOL® PM only as directed on the product packaging.