Give The Gift Of P.F. Chang's For The Holiday
This is a Sponsored post written by me on behalf of P.F. Changs for SocialSpark. All opinions are 100% mine.
It's already time to start thinking about holiday gifts for our friends and family. And if you're like me, you want to make this process as painless as possible. I try and get all the gifts for our loved ones in one or two stops and less than an hour. I do this by just purchasing gift cards.
I buy some gift cards you can use like cash anywhere for our younger family members, but for the older ones, my favorite thing to do is buy them restaurant gift cards. It's a great way to treat someone to dinner easily, without making plans. They can go at their leisure anytime. It especially works well for our family that live far away. I love it because it's more personal than a cash gift card.
And this year our favorite Asian chain restaurant, P.F. Chang's is offering a great deal when you purchcase a gift card from them. This year when you purchase $100 in gift cards, receive a $20 bonus card to treat yourself. Plus, this offer is available at P.F. Chang's or online at pfchangs.com for however you prefer to shop this holiday season.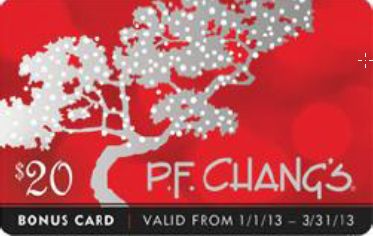 If you haven't been to a P.F. Chang's restaurant yet, you should try them. The atosphere is beatiful, unique and modern. The menu consits of many classic favorites as well as seasonally-inspired dishes.  A few of my favorite menu items are the CHANG'S CHICKEN LETTUCE WRAPS and the CHANG'S SPICY CHICKEN. And for dessert you can't beat THE GREAT WALL OF CHOCOLATE®. It's Six rich layers of frosted chocolate cake topped with semi-sweet chocolate chips, served with fresh berries and raspberry sauce. It's to die for!
I've already got a few people in mind I'm buying P.F. Chang's gift cards for this year. Who do you think in their inner circle is most deserving of a P.F. Chang's gift card?<chang's and="" beat="" cake.="" chicken.="" chocolate="" dessert="" die="" for="" great="" of="" p="" s="" spicy="" t="" the="" their="" to="" wall="" you=""> </chang's>
Don't forget to Follow @pfchangs on Twitter.
And be sure to Follow P.F. Chang's on Pinterest too!
Our Apologizes
There is no recipe attached to this article, but be sure to explore my more than 1000 recipes below!