Paw Print Dog Treats
This post brought to you by ALPO® Brand Dog Food. All opinions are 100% mine.
I've got another fun dog treat for you today. I love making treats for my whole family, including our big silly chocolate lab. And of course, he loves the homemade dog treats too, and I feel great about giving them to him because I know exactly what's in them. They're healthy, tasty and a great reward for when my big guy is being a good boy.
Our Coco loves to run and play with us, but if we're being lazy, he's lazy too. He spends most of his day under my feet either laying on the floor in my office or laying on the kitchen floor waiting for me to drop something. I call him my shadow.
Coco will be four next week, and it still seems like he's in a puppy stage. He hasn't yet crossed over into lazy old lab, and I hope he never does because that probably means his joints are aching with arthritis. He's still very bouncy, hyper and extremely playful. His only problem now that we're working on is jumping on people. I've had a few other people help me with him, and I can train him not to jump on them in particular (and he never jumps on us), but then when a new person comes along, he starts the jumping again. If anyone has any dog training tips for this annoying behavior, I'm all ears.
For these treats, I used ALPO® Chop House wet dog food mixed with rice flour, eggs and olive oil. These are not only tasty but also full of healthy fats from the olive oil. I love adding olive oil and also fish oil to his food, it really helps with his dry skin. I also give him fish oil supplements to keep his skin moist and Glucosamine Chondroitin to help prevent joint problems.
ALPO® is my favorite brand of wet dog food, and the only brand I buy. Coco absolutely loves the great taste and I love the nutrition. ALPO® wet dog food is 100% complete and balanced and has quality ingredients, like healthy protein sources, wholesome grains and accents of vegetables, contribute to form a complete and balanced diet for each life stage. ALPO dog food helps support a happy, healthy life, a shiny coat, strong bones and teeth and a mealtime tail that just can't stop wagging.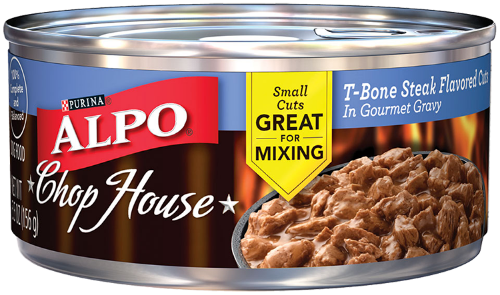 One of my favorite sizes of ALPO® is the 5.5 oz. can. It's the perfect size to add to his dry dog food as a mix in. This size is also great for little dogs, like my grandma's Chihuahua. ALPO® Chop House 5.5 oz offers unique flavors for your dog, such as T-Bone Steak Flavored Cuts, Tender Cuts With Lamb, Filet Mignon Flavor, and Rotisserie Chicken Flavored Cuts. These flavors will satisfy your pickiest little doggies!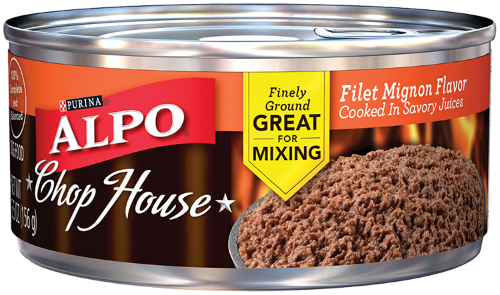 Be sure to check out ALPO's variety dog food.
Also swing on over to ALPO's Facebook Page and don't forget to check out ALPO® on Instagram.
Paw Print Dog Treats
Ingredients:
1 15 oz can ALPO® Chop House Dog Food
3 cups rice flour, plus more for rolling
1/3 cup olive oil, or another healthy oil
1 egg
1 teaspoon baking powder
Directions:
Heat oven to 350°. Combine Dog food, oil and egg in a blender or food processor. Blend well.
Pour mixture into a large bowl and add flour. Mix well until incorporated.
Roll dough onto work surface until 1/4" thick. Use a biscuit cutter to cut out treats.
Using your knuckles, create indentions in cookies that resemble a paw.
Bake for 15 - 20 minutes, or until set. Let cool 5 minutes on baking sheet before transferring to cooling rack.
Did you make this recipe?
Be sure to share on Instagram with the hashtag #EclecticRecipes and tag me, @EclecticRecipes!