Virtual Vintner Program from La Crema
This is a sponsored post written by me on behalf of La Crema© winery for IZEA. All opinions are 100% mine.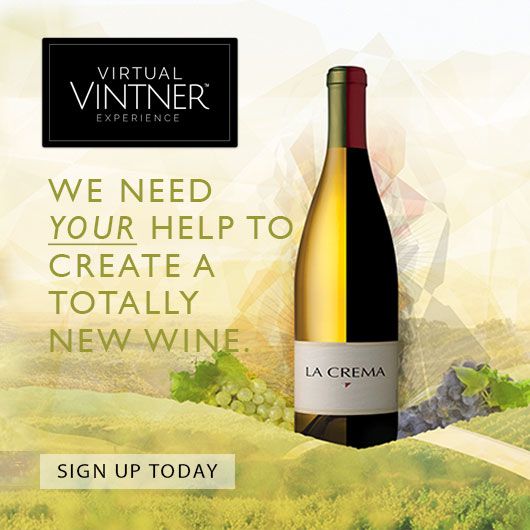 Have you ever dreamed of being a winemaker? Having your very own vineyard and strolling through the fields of grapes? I know I have. It's one of those types of dreams that looks like an old movie. I pick the grapes at their ripest, stomp them with my bare perfectly pedicured feet, and then the rest. Come to think of it I don't know what those other steps are, but I know a fun way to learn. Now with La Crema's new Virtual Vintner Program you can learn all about the winemaking process, all while helping create a one of a kind community created wine.  Just imagine, this harvest season YOU can help chart the course of a winemaking journey for a whole new wine from La Crema! I know I can't wait to Become a Virtual Vintner!
During this process you will learn all about the viticulture and winemaking techniques that go into each bottle of wine. Virtual Vintner™ participants will go on a "choose your own adventure"-style winemaking journey. Decisions along the way include the variety of grape, the specific vineyard, harvest date and barrel treatment, even the label and design. And with each one of these steps, you'll learn valuable wine making information. Popular choice will determine the path of the wine.
Are you Ready to make some wine? Sign up to be a Virtual Vintner.This program will unfold in real time beginning August 11, 2014, with the wine being released late Fall 2015. This experience will engage casual wine drinkers like myself to sophisticated wine enthusiasts with a rich education platform, including videos and winemaking education from winemaker Elizabeth Grant-Douglas, interactive maps and more. It's a unique opportunity to look behind the scenes of an artisan winery and learn directly from the winemaking team.  At the end of their journeys, members of La Crema's Virtual Vintner™ community will not only have gained winemaking expertise, but will have the first chance to purchase a wine to call their very own, to savor and share with friends and family.
I'm so excited for this program! I've already started voting. It's so fun to me to learn all about the winemaking process. The website is so easy to use. You just click on what you want to vote for, and you can learn all about that step.
For instance, right now the voting is for the vineyard. You choose which vineyard you would like based on the information provided. You can learn all about how climate affects each variety of grape. It's so interesting. Like did you know that a vineyard close to the ocean has a completely different flavor profile. It's amazing!
The whole wine making process is so involved and learning about it makes you appreciate that wonderful glass of wine we enjoy so much more. If you want to join the fun, don't wait, Sign up to become a Virtual Vintner now!
The legal drinking age is 21 years old, as always please drink responsibly.
Our Apologizes
There is no recipe attached to this article, but be sure to explore my more than 1000 recipes below!