Visit Daytona Beach This Fall
This is a sponsored post written by me on behalf of Daytona Beach Area Convention & Visitors Bureau for IZEA. All opinions are 100% mine.
We're so lucky to live in central Florida because not only are we just a short drive away from tons of park attractions, but we're also close to the most beautiful and exciting beach I've ever visited. Living so close, we spend many weekends at our favorite beach, Daytona Beach. We love going all throughout the year. The summers are fun, but spring and fall are especially beautiful in Daytona Beach because of the cooler temperatures and less crowds.
My husband and I both grew up in the Gulf Coast area of Florida, and although those beaches are also beautiful, there's nothing quite like Daytona Beach. The people, 23 miles of white sparkling sand and the ability to drive on the beach make it the best.
There's nothing more relaxing than to just take the truck, packed with a picnic, some cold drinks and toys for the kids. We just have our picnic on the tailgate of the truck as we watch the cars go by, on the beach. And of course, watch the waves roll in.
My son has always loved going to Daytona Beach. There's so many kid friendly options there. Right on the beach, there's always an ice cream or snack truck close by, so the kids are always excited. And when you pack it in and drive on A1A, there's all those fun kid-friendly attractions like mini golf, theaters, delicious restaurants, a water park and even paintball!
We also love to go the boardwalk. There are many shops, restaurants, rides and games, all fun for families and couples. It's a beautiful area to spend the afternoon and evening. Before my son was born, we always ended the night with a romantic walk on the beach. Night walks ion the beach are one of my favorite free things to do in Daytona Beach.
There's so much outdoor fun in Daytona Beach. We love to take our boat out and cruise the intercostal waterway. It's so gorgeous. You can also take the boat out or go out with a captain to do deep-sea fishing. Get seasick? No problem, because there are lots of historical sites to visit at Daytona Beach too!
Sometimes we stay overnight in Daytona Beach, especially if it gets late and we're still having fun. There are a large variety of places to stay there too. From hotels, motels, condo rentals, bed and breakfast inns, vacation rentals and campgrounds, there's something to fit everyone's budget and style.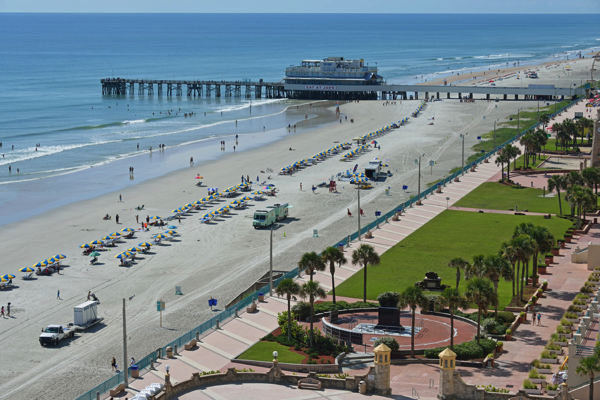 If the beach isn't quite your thing, there are lots of other things to do in Daytona Beach too. You can visit the Daytona International Speedway or the new Cici and Hyatt Brown Museum of Art, which has the largest collection of Florida art in the world.
Daytona Beach is great for couples too. After a day at the beach, you can choose from a number of Daytona Beach's fine dining restaurants, bars and night clubs.
Did you know Daytona Beach is known as the festival capital of Florida? The area has more than 50 festivals each year, and the fall festivals going on right now make it the perfect time to visit. If you're an art lover, be sure to visit the Halifax Art Festival in scenic downtown Daytona Beach. For classic cars, visit the Daytona Turkey Run at Daytona International Speedway. And for fun and dancing, you can't miss the Greek Festival.
And did you know there's a Daytona Blues Festival? Visit and you'll enjoy a top-notch line-up for blues greats performing at historic Jackie Robinson Ballpark. You can also find daily live music during Biketoberfest® at Bruce Rossmeyer's Destination Daytona motorcycle-themed shopping and entertainment complex.
No matter what you're looking for, Daytona Beach has the perfect vacation option for you. I'm in the middle of planning my perfect Daytona Beach Fall getaway right now. We'll be taking a 3 day weekend to enjoy our favorite beach.
First we'll be staying at the Daytona Beach KOA to camp. Our family loves the outdoors and this is a great campground. Then we're headed to the Daytona Blues Festival. I'm so excited and can't wait. We're going this coming weekend! When we're not at the festival, we'll be on the beach. We always drive on the beach and spend time playing in the sand and surf. The fall is such a great time to visit because of the wonderful cool beach breeze and the crowds aren't nearly as bad.
Have you visited Daytona Beach before? If so, what was your favorite thing to do or place to go?
Be sure to look into Daytona Beach as your next vacation spot. There's so much to do and see. The beach awaits!
You can find out more, or receive your own travel guide by visiting here.
Our Apologizes
There is no recipe attached to this article, but be sure to explore my more than 1000 recipes below!