Mashed Veggie Casserole with Sautéed Spinach
Thank you Idaho Spuds for sponsoring this post. VeggieMash mashed potatoes are a blend of 100% Idaho® grown potatoes and real vegetables for a new take on a family favorite!
Hover over the image below for great deals on Idaho Spuds' new VeggieMash!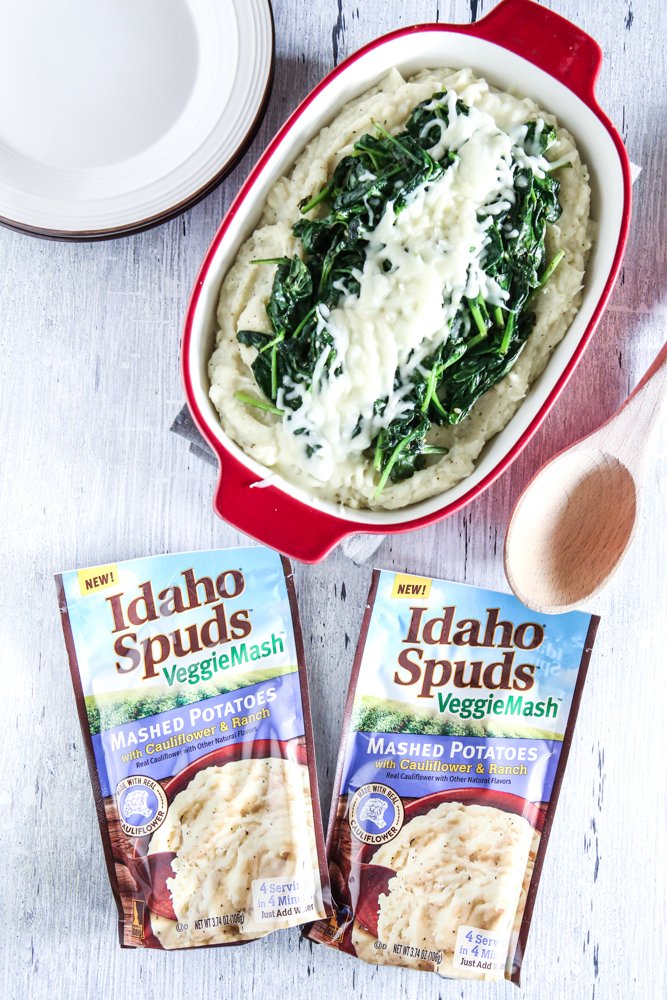 When my son was a little toddler I did all the right things to help introduce him to new flavors and textures in foods. I was such a success because he ate just about every fruit and veggie under the sun with absolutely zero complaints. I even have him to the point at 10 that he craves things like raw oysters, canned sardines and garlic goat cheese.
I was so proud of myself and thought I was such a superior mother, I did the exact same things with my daughter. However, it didn't work. She says almost every veggie and a lot of fruits are yucky. She cries, covers her mouth and refuses to try anything new. She throws herself on the floor in a fit and would rather starve than eat anything new and especially green.
Having more than one kid has made me realize, I know nothing about parenting, especially when it comes to helping kids not be picky eaters. Every kid within each family is unique and comes with their own set of issues. And what works for one kid surely won't work for another. There's no book, trick, or piece of advice that's going to make you the perfect parent.
The only thing we can do as parents is persevere. You know just keep at 'em. We just have to try and keep reinforcing good values, setting a good example and keep reintroducing those same healthy foods we want them to eat over and over until they finally give in. One kid it may take just a few times, or in the case of my daughter, 174 times.
The main way I like to reintroduce the same foods over and over in hopes of getting my little one to eat them is to repackage them, and serve them in a visually different way. This will hopefully spark a bit of curiosity and get her to take a bite of something new.
This Mashed Veggie Casserole with Sautéed Spinach is one of the simple ways I like to make cute veggie filled side dishes that the whole family will love. The base of this recipe is Idaho Spuds' new VeggieMash.  It's a delicious and simple dinner side solution to get your family, especially the kids, to eat more veggies!
What I also love about Idaho Spuds' new VeggieMash is that you can incorporate it into so many different and easy side recipes too. This recipe takes just a few ingredients. I start with preparing the Idaho Spuds' VeggieMash according to package directions. For this recipe, I'm making enough for a crowd, so I use 2 packages of the Idaho Spuds' VeggieMash Mashed Potatoes with Cauliflower and Ranch.
Then I sauté some spinach in olive oil with a little salt and pepper and layer it on top of the Idaho Spuds' VeggieMash. Next I just sprinkle on some Italian blend shredded cheese. Then I just bake until the cheese is melty and it's done, how easy is that! And the kids are sure to love it.
Idaho Spuds come in 3 delicious varieties, and we love them all. They are Mashed Potatoes with Broccoli & Cheddar VeggieMash, Mashed Potatoes with Cauliflower, Butter & Herbs VeggieMash, and Mashed Potatoes with Cauliflower & Ranch VeggieMash.  All Idaho Spuds products start with 100% Idaho® Potatoes, and  VeggieMash is made using real, delicious vegetables
With Idaho Spuds you'll be able to get the family to eat their greens, and they won't even know it! Making healthy choices for dinner, that the kids will actually eat, has never been easier. Idaho Spuds is real veggies, real potatoes and real tasty.
Mashed Veggie Casserole with Sautéed Spinach
Ingredients:
2 packages Idaho Spuds' VeggieMash Mashed Potatoes with Cauliflower and Ranch
1 (9oz) package fresh spinach
1 teaspoon olive oil
salt and pepper to taste
1/2 cup Italian blend shredded cheese
Directions:
Preheat broiler. Prepare Idaho Spuds' VeggieMash Mashed Potatoes with Cauliflower and Ranch according to package directions and spoon into a large casserole dish.
Sauce fresh spinach in olive oil. Add salt and pepper and wilt down. When spinach is done, spoon over the Idaho Spuds' VeggieMash.
Sprinkle shredded cheese on top of spinach and place under broiler. Broil until cheese is melted and remove to serve.
Giveaway Time
Want to win an assortment of Idaho Spuds VeggieMash to try for yourself?!? YES PLEASE! 
Entry Options: Readers may enter the giveaway via the widget below with the following options:
Notification:
Winners will be randomly selected and notified by CLEVER by September 9
Terms & Conditions: The official Terms & Conditions are included in the widget; here is the high-level eligibility criteria:
Age 18+
US residents only
Only one winner per household
Giveaway ends September 9.
I was selected for this opportunity as a member of CLEVER and the content and opinions expressed here are all my own.